Welcome to Narre Warren North Primary School's website. Our site provides an overview of our school; it outlines important information for families about school programs and provides a forum to showcase student learning and connectedness to school. Our school is one where students are engaged in rich, meaningful and innovative learning experiences. We work as a supportive learning community where students are motivated and challenged to take responsibility for their own learning. We celebrate the individual successes of each of our students in all areas of the curriculum. Both staff and parents are committed to maximising the educational opportunities for all students in a safe and caring learning environment.
We foster the development of student connectedness and well-being, which is recognised as vital for productive learning. Students are encouraged to have high personal expectations. Developing self worth and a strong sense of belonging to the school is valued. Student leadership is nurtured across all levels.We are lucky to have a supportive and proactive community with high levels of family involvement within the school. Staff and parents work in partnership to continually improve student learning and well being.I hope that our site answers questions you may have and assists you in gaining a 'picture' of life at Narre Warren North Primary School.We are very proud of our school. If you have any further questions, or would like to visit our school, please do not hesitate to contact us.
Connie vanderVoort, Principal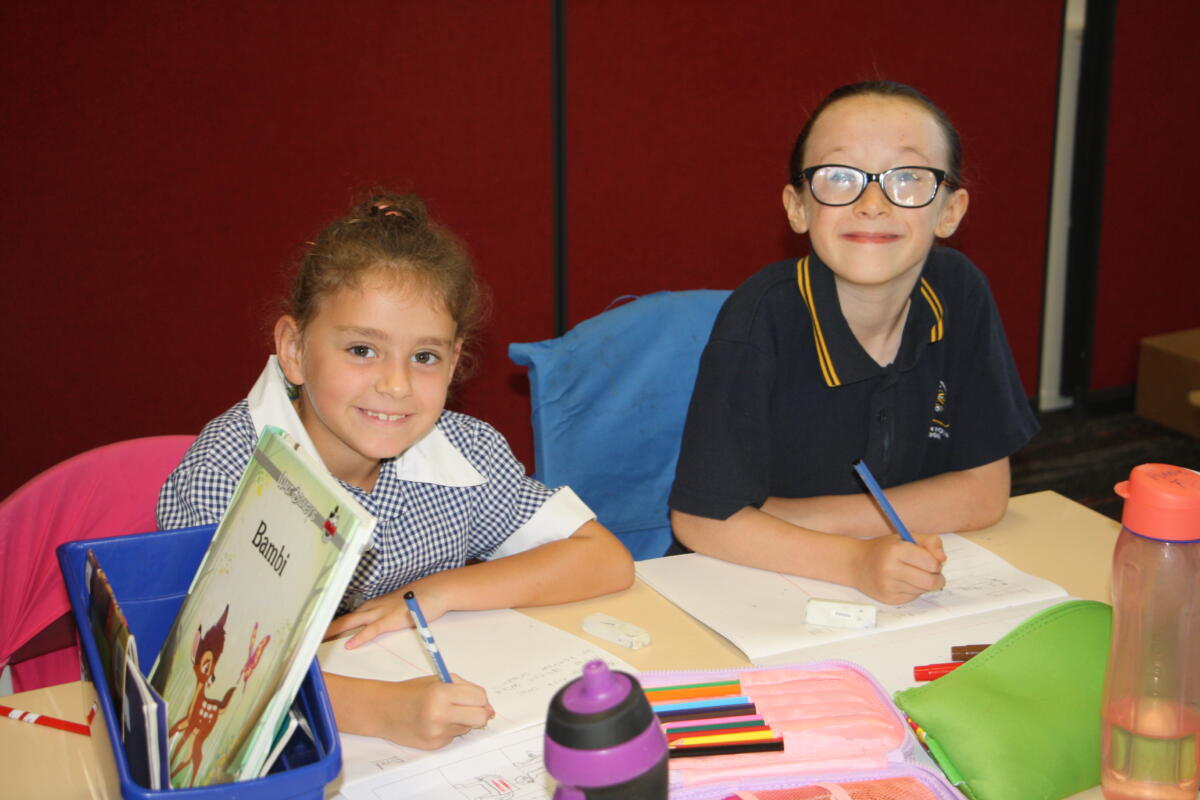 Narre Warren North Primary School opened in July 1877 with an enrolment of 55 students. By 1901 enrolments had increased to 65 students, all taught by one teacher, with both girls and boys being taught to knit and sew.
A Young Farmers' Club was formed at the school with students learning about farm management. Field days were held regularly. Cows, calves, sheep, pigs and fowls were bought to school for judging.
At the time of the school's centenary on 2nd July 1977, there were 185 students and 7 teachers. A log cabin, built through the efforts of the local community was opened on the day.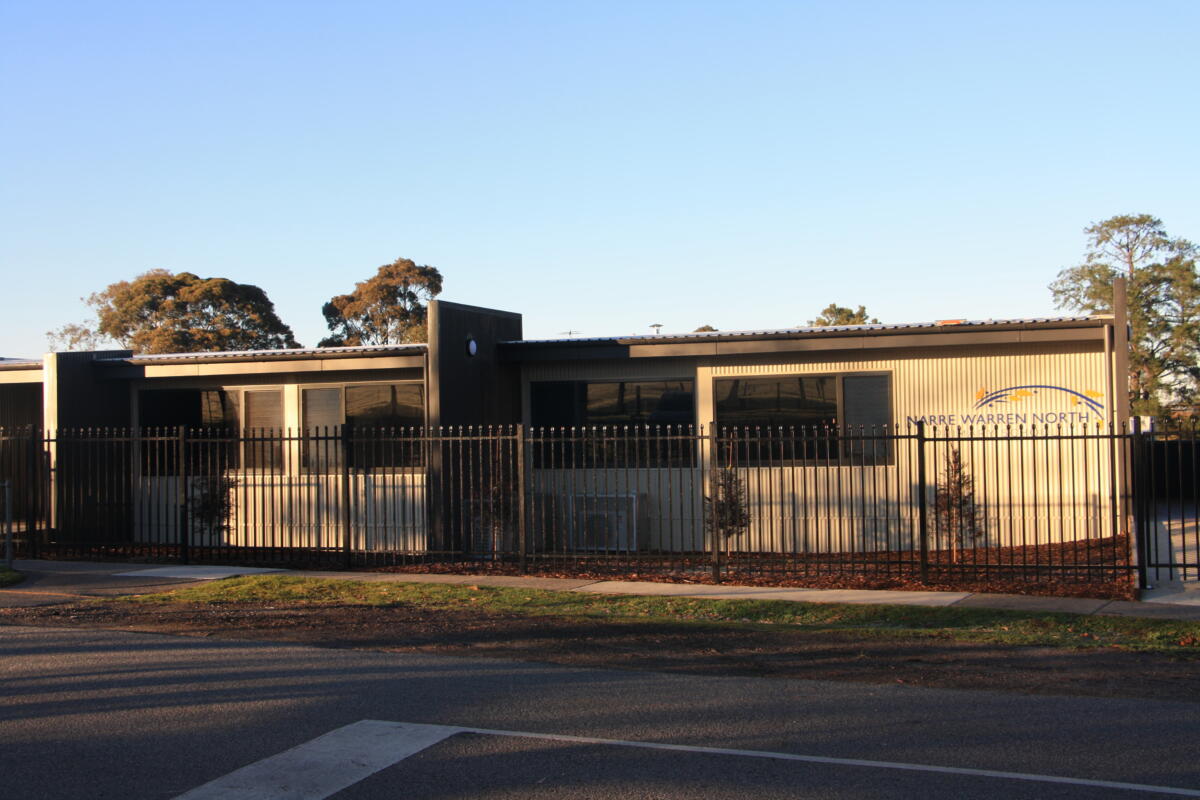 In May 1996 the log cabin, or Multi-Purpose Room as it is now known, was rededicated after being doubled in size, again through the efforts of parents and teachers.
The rapid influx of families into the City of Casey, a growth corridor of Melbourne, saw the school population increase to 400 students in 2003, with numbers remaining fairly stable since.
At our 135th birthday, a publication was produced outlining our school history.
Narre Warren North PS has 3 new buildings including an administration block and Junior school classrooms. The Administration building holds the main office for parents to use when entering the school grounds, sickbay, offices and meeting rooms. The Junior School buildings consists of 10 classrooms. The senior school has 6 classrooms. We also have spaces for  Performing Arts, Art, Science, Physical Education, Auslan and Chaplaincy.
This year we have 377 enrolments at Narre Warren North Primary School.
At Narre Warren North Primary School we believe that all children have the ability to learn. By providing an environment that is stimulating, safe, happy and positive, we foster the learning potential of our children. We will develop a high standard of literacy and numeracy, by encouraging inquiring minds and effective communication skills. Our students will be encouraged and challenged to fulfil their academic potential, develop self discipline, self esteem and become independent learners.
Our school's vision is to prepare young people to become active, engaged and responsible citizens of the local and global community. It aims to prepare students to live in a dynamic 21st century in which creativity, cooperative work, connectedness to the world and adaptability are key features.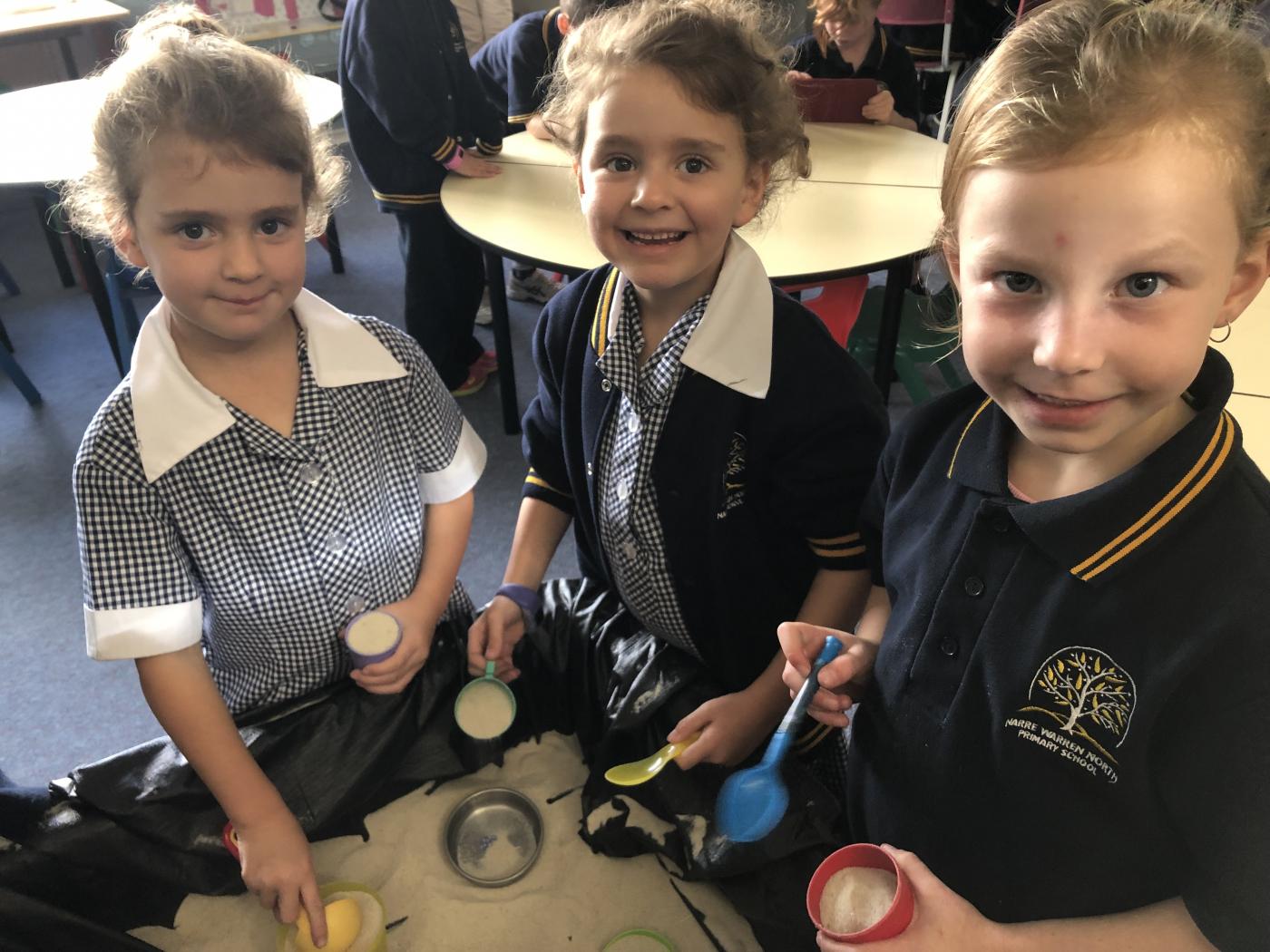 At Narre Warren North Primary School we enact this vision by giving our students a grounding in the '4 Pillars of Learning' needed to be successful in life:
Learning to Know
being literate and numerate and being able to expand knowledge to understand the world and act effectively in that world.
Learning to Do/Apply
being able to use ICT effectively and to build knowledge of digital literacies, being able to put into practice the necessary skills learned in all curriculum areas to everyday life and developing qualities such as communication, teambuilding and problem solving skills.
Learning to Live Together
celebrating and valuing diversity; showing mutual respect, empathy and concern for others and the world we live in through the development of social skills and restorative practices.
Learning to Be
living the important values in life including our school values to assist students in having the personal resources and intellectual tools needed to understand the world and behave as fair-minded, responsible human beings.
The school values are Respect, Responsibility, Resilience, Persistence and Honesty. At Narre Warren North Primary School aims for all children to reach their full potential and take responsibility for their learning.
Narre Warren North Primary School is committed to child safety and establishing and maintaining child safe and child friendly environments where all children are valued and feel safe. We have zero tolerance of child abuse, and all allegations and safety concerns will be treated very seriously and consistently through our policies and procedures.
We support and respect all children, as well as our staff and volunteers. We are committed to the cultural safety of Aboriginal children, the cultural safety of children from culturally and/or linguistically diverse backgrounds, and to providing a safe environment for children with a disability and in out of home care.
School Improvement
Our school is constantly looking to improve school policy and programs. Our current school priorities can be found in the following documents.
Policies
Our commitment to Child Safety: Narre Warren North Primary School is committed to child safety and establishing and maintaining child safe and child friendly environments where all children are valued and feel safe. We have zero tolerance of child abuse.
Below are our school policies. If you require more information regarding any policies please contact the school.
Narre Warren North School Policies
Show Day
During Term 4, Narre Warren North Primary School holds its annual Show Day. The event provides a day of fun and enjoyment for students as well as the broader school community. With items for sale, food and drink treats, performances, games, competitions and our very own Side Show Alley, there really is something for everyone.
Students in the senior school are actively involved in the planning, organisation and operation of the day, while every class in the school is responsible for a stall or activity.
The day raises important funds for the school, to help improve facilities and purchase resources. The Grade 6 students operate stalls that raise money to help fund their end of year graduation.